In business
since 1990
for the handyman

AQUAKIT-PLUS permits a do-it-yourselfer to install himself an inground pool at a low cost. Our kits include a technical support such instruction manual and video cassette. Even if you wish to have some work done by a sub-contractor, you will still save 30 to 40% compared to a contracted installation.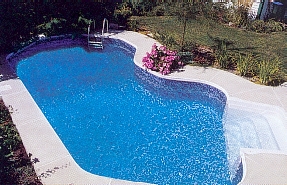 Multi-forme Rio ronde
For our customers within our personal delivering area, we will take the time to explain the use of each piece.
Even after that if you have any questions, you can contact us by phone or e-mail, we will be happy to answer.
Odyssé
The continual expressed satisfaction of our customers is our guarantee. We are a family business that makes it our priority to offer the best of products along with quality service. The majority of our customers were referred to us through previous satisfied customers that dived into our concept .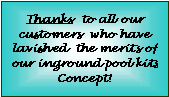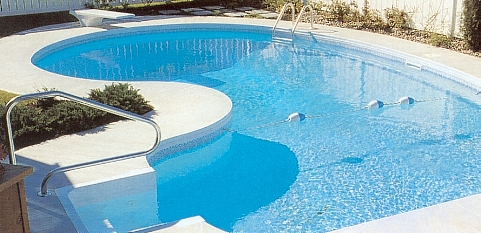 Palette
We personaly deliver in the Quebec region, in the southeast of Ontario, New-Brunswick and the following parts of the United-States : Vermont, New Hampshire, Maine, New York, Massachusetts, Connecticut, Rhode Island, Pennsylvania, New Jersey, Maryland, Delaware and south-est of Michigan.

Upon buying our kit, delivery is free up to 50 km within Montreal or Quebec. Anywhere else delivery cost is extra.
Installation not included
Warranty:
Our products have a manufacture's warranty against all defaults in the fabrication.

Taxes : Taxes must be added where applicable
Prices subject to change without notice
For more information or to place an order, you can reach us at :